---
18th Annual Sustainable Forestry Conference

See below for 2023 Brochure and Registration information!
Online Registration is now available at:
www.lumberjackrcd.org/sustainable-forestry-conf

18th Annual Sustainable Forestry Conference
April 19, 2023
In-Person Event
Keyes Peak Ski Lodge
Florence, WI
Financial Sponsors & Speakers:  Your Registration is FREE, only return the completed Registration from.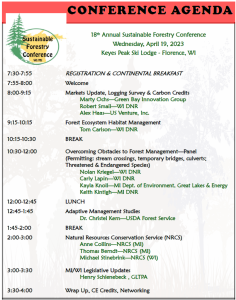 *Continuing Education Credits Available*
Conference Fee:  $40.00
2023 Sustainable Forestry Conference Presentations
Markets Update – Marty Ochs
Logging Survey – Robert Smail
Carbon Credits – Alex Haas
Habitat Management – Tom Carlson
Threatened & Endangered Species – Carly Lapin
Threatened & Endangered Species – Keith Kintigh
Permitting – Kayla Knoll
Permitting – Nolan Kriegel
Adaptive Management Studies – Dr. Christel Kern
NRCS – Anne Collins, Thomas Berndt, Michael Stinebrink
MI/WI Legislative Updates – Henry Schienebeck
Thank you to everyone who made last year's Sustainable Forestry Conference a successful one!  Hope to see you all again this year.