16th Annual Sustainable Forestry Conference
May 5, 2021
In-Person Event
Keyes Peak Ski Lodge
Florence, WI
Conference Agenda
7:30-7:55 Registration & Light Breakfast
7:55-8:00 Welcome
8:00-9:00 Forestry & Logging Techniques to increase Ruffed Grouse Habitat
John Steigerwaldt, Ruffed Grouse Society
9:00-10:00 Technology Panel
Leo Huhta, Waldo Solutions
Carl Lockhart, John Deere
Shane Kleiman, Green Timber Forestry
10:00-10:15 BREAK
10:15-11:00 Loggers and Truckers Cooperative Efforts
Dennis Schoeneck, Timber Professionals Cooperative
11:00-11:45 MI/WI Forestry Industry Assistance Programs
Don Peterson, Renewable Resource Solutions
11:45-12:30 LUNCH
12:30-1:00 Financing Options for Forestry Industry
Jed Lechleitner, mBank
1:00-2:15 Roundwood Purchasing Panel
Chris Boor, Bell Pole
John Johnson, Potlatch
Tim Nicklaus, Kretz Lumber
2:15-2:30 BREAK
2:30-3:15 WI/MI Legislative & Forest Practices Study Updates
Henry Schienebeck , GLTPA
*Continuing Education Credits Available*
We respectfully request that if your registration was rolled over from last year, please complete the REGISTRATION form and resubmit the form ONLY by April 26, 2021 deadline either by mail, fax or email.
Mail to: Renewable Resource Solutions
1353 W. Hwy US 2, Suite 2
Crystal Falls, MI 49920
Fax (906) 875-3724 or Email to Nikki@renewableresourcesolutions.com
Register Online with payments: https://lumberjackrcd.org/sustainable-forestry-conf
Conference Fee: $35.00
Financial Contributors/Sponsors: Registration is FREE, only return the completed Registration form.
Face Masks recommendations will be based on Florence County Health Department requirements on May 5, 2021.
REGISTER EARLY! SPACE IS LIMITED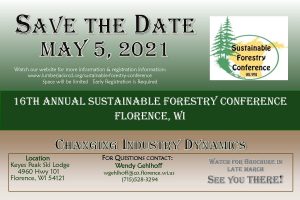 Thank you to everyone who made this years Sustainable Forestry Conference a successful one!  Hope to see you all again next year.