Community Strength Training Program for Women and Men in Florence County
Registration open now for Fall Classes at Tipler Town Hall
The University of Wisconsin-Madison Florence County and F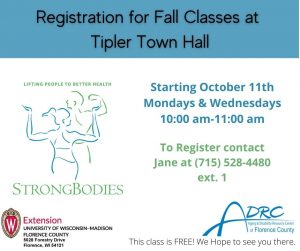 lorence County ADRC will be offering the Strong Bodies Program, an exercise program for middle-aged and older adults. The Program is an 8 week class that meets twice a week (Mondays and Wednesdays) for about 60 minutes and goes through a routine of 10 exercises using dumbbells and ankle weights (which will be provided). Classes will be offered at the Tipler Town Hall starting the week of October 11, 2021.
The classes are FREE—no cost to attend! Classes are held twice weekly (Mondays and Wednesdays) from 10:00 am-11:00 am and each class includes progressive weight training, flexibility, balance activities. Participants themselves determine what weights, if any, they start with and can increase when they are able. Jeanne Richard-FoodWIse Extension Nutrition Educator has been trained in the Strong Bodies Program and will be teaching the classes.
The Strong Bodies Program was developed by Miriam Nelson, Ph.D., an associate professor at the Gerald J. and Dorothy R. Friedman School of Nutrition Science and Policy at Tufts University. The Strong Bodies Program is based upon years of research on how strength training and proper nutrition improve the health of all ages. "Strength is a critical factor in living healthier, more active lives. Our research shows that a program of strength training not only improves bone density but reduces falls, improves arthritis symptoms, and increases flexibility and strength," states Dr. Nelson. The program is appropriate for both sedentary and active adults.
Registration will be the first day of class. If you have any questions concerning the Strong Bodies Program, please contact Jeanne or Jane at the University of Wisconsin-Madison Florence County at 1-715-528-4480. You do not have to be a resident of Florence County to participate. Remember: the class is FREE! We hope to see you there.