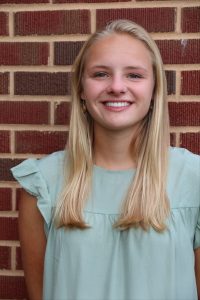 Kathleen Selden is the new 2022 Summer Horticulture Assistant for the UW-Extension Florence
office. With her position, she will be assisting with the Crossroads Community Garden as well as
helping community members answer horticulture-related questions. This summer, Kathleen is
looking forward to forming connections with community members and giving back to the
wonderful community she grew up in.
Kathleen is a native of Florence, WI, and graduated from Florence High School in 2020. She
currently studies business at UW-Madison. In previous years, Kathleen has worked for Florence
County Land Conservation as well as for the Wisconsin DNR. Outside of work and school,
Kathleen enjoys spending time with friends and family, traveling, watching sports, exercising,
and reading. Kathleen is excited to work for the UW-Extension this summer and looks forward
to working with community members.
Kathleen may be contacted anytime by email or phone, and can be reached in-person at the
Florence County UW-Extension office on Tuesdays and Thursdays throughout the summer.
Please contact Kathleen at 715-528-4480 ext. 2 or email her at florencehorticulture@extension.wisc.edu