Glacial Gardeners Master Gardener Volunteer Association
The Glacial Master Gardeners Volunteer Association (GGMGVA) was started by the first graduates of the first training program offered by Florence County UW-Extension in 1997. Current membership includes 35 gardeners from  Florence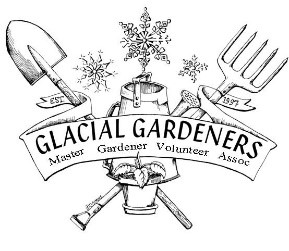 and Marinette Counties of Wisconsin, and Dickinson and Iron Counties of Michigan.
A wide variety of volunteer opportunities and projects are available to members:
Diagnosing plant problems
Educational exhibits during local events
Educational workshops at the Crossroads Community Garden
Wreath Workshop (second Tuesday in November)
Member Only Plant Auction (second Tuesday in September)
Spring and Fall plant sales
Monthly meeting and programs are usually held on the second Tuesday of the month in the lower level of the Resource Center in Florence at 1:00 pm. Master Gardeners from other states or those with lapsed certification are welcome.   Annual membership dues are $15 per person. For more information on how to join the Glacial Gardeners, contact via email at glacial.gardeners@gmail.com or stop into the UW-Extension office located below the Florence County Resource Center.
GLACIAL GARDENERS MASTER GARDENER VOLUNTEER ASSOCIATION $500 SCHOLARSHIP
Student/College Application Form
REQUIREMENTS:
Resident of one of the following counties: 
Florence or Marinette Counties of Wisconsin
Iron or Dickinson Counties of Michigan
Pursuing a 2 or 4 year degree in one of the following QUALIFYING MAJORS/DEGREES:
Agricultural and Applied Economics

Agricultural Education

Agronomy (Soil management and crop production)

Botany (physiology, structure, genetics, ecology, distribution, classification & economic importance of plants)

Entomology

Environmental Science

Forest Service

Horticulture

Landscape Architecture

Plant Pathology

Soil Science

Wildlife Ecology
Completed application must be postmarked by May 1, 2018
Master Gardener Volunteer Training Marinette, Oconto and Florence Counties
The Master Gardener program is all about volunteering in the local community.  As a member of the class you will learn how to find answers to gardening questions through the use of research-based material from the University of Wisconsin Cooperative Extension.  On completion of the classroom sessions (36 hours), there will then be 24 hours of volunteer time put in at one or more of the approved projects in the area.  For information on the Wisconsin Master Gardener program, go visit the state website Wisconsin State Master Gardener Program
For more information about the Master Gardener Training or the local association (Glacial Gardeners Master Gardener Association), e-mail Office Manager Sabrina Leffler (sabrina.leffler@wisc.edu)
  Topics covered in Master Gardener Training include:
Plant Biology & Morphology
Soils & Soil Health
Woody Landscape Plants
Fruit Crops
Composting
Herbs
Lawn Care 
Plant Propagation
Backyard Wildlife
Perennials and Annuals
Vegetables
Using Native Plants
Weed Management & Invasive Plants
Entomology
Plant Diseases
To complete an annual re-certification, 24 hours of volunteer time is needed plus 10 hours of continuing horticulture education.
The possibilities for volunteering are limited only by your own ideas and time.  Whether you like working most with people or with plants, there are activities that you can do to fulfill the volunteer hours requirement.