Triple P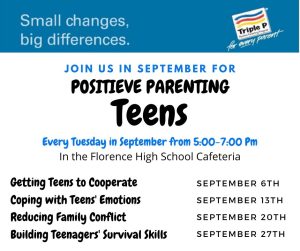 Welcome to Triple P – Positive Parenting Program
There will be a free parenting workshop offered in Florence County. Parents and caregivers of youth 12 and older are welcome to join us for a free Triple P-Positive Parenting Workshop at the Florence Middle/High School Cafeteria in the month of September. The workshop will start promptly at 5:00 – 7:00 pm. This program is for adults only.
The Positive Parenting Program will provide parents, caregivers, educators, and child care providers with strategies to develop confident and healthy children, build strong family relationships, manage misbehavior, and prevent problems from happening in the first place.
September 6th – Getting Teens to Cooperate
September 13th – Coping with Teens' Emotions
September 20th – Reducing Family Conflict
September 27th – Building Teenagers' Survival Skills
Please contact Tierany Rugg at UW Extension: (715) 528-4480 ext. 5
or email Tierany.Rugg@wisc.edu with any questions.
$25 Gas Cards will be provided to families who attend two or more workshops.This program is brought to you by the University of Wisconsin- Extension Florence County, Florence School District, Florence County Health Department, Florence County Human Services, and Child Abuse and Neglect Prevention Board
An EEO Affirmative Action employer, the University of Wisconsin-Extension provides equal opportunities in employment and programming, including Title IX and ADA requirements. If you require accommodations to participate in this programming, please call Tierany at 715-528-4480 as soon as possible.
Parents Forever™ is a "co-parenting" class for parents in the process of divorce, already divorced, or never married but separating.
The class covers how family change affects children, co-parenting, communication and conflict.  Each parent will gain various insights and skill sets that will, through each stage of the transition, help meet their children's needs as well as help them lead happier, less stressful lives.
Participants will receive a certificate of completion after successfully completing the session for your personal records and/or to provide to the court, if required.
Classes are held at the Florence Natural Resource Center at 5628 Forestry Drive in the lower level.
To Schedule contact: Tierany Rugg at (715)528-4480 ext. 5
Registration payment is $20.00 and MUST be turned in before the start of class.
For any questions on registration, location, class dates, or any other questions, comments or concerns please call or e-mail:
Tierany Rugg
Email: Tierany.Rugg@wisc.edu
Phone: (715) 528-4480 ext. 5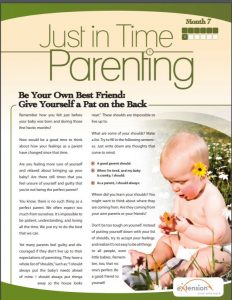 Just in Time Parenting is a free parenting newsletter that is delivered by email and specific to a child's age and needs. They are designed so that information that's relevant to your family is automatically delivered to you just in time!
Click HERE to sign up for JITP!