Visit the WI Master Gardener Program, Division of Extension at https://wimastergardener.org/

GLACIAL GARDENERS
The Glacial Gardeners was started by the graduates of the first training program offered by Florence County UW-Extension in 1997. Current membership includes 21 gardeners from Florence and Marinette Counties of Wisconsin, and Dickinson, Iron & Menominee Counties of Michigan.
A wide variety of volunteer opportunities and projects are available to members:
Monthly meeting and programs are usually held on the second Monday of the month in the lower level of the Resource Center in Florence.  Master Gardeners from other states or those with lapsed certification are welcome.   Annual membership dues are $15 per person. For more information on how to join the Glacial Gardeners, contact via email at glacial.gardeners@gmail.com or stop into the Extension Florence County office located at 5628 Forestry Drive, Florence, WI 54121.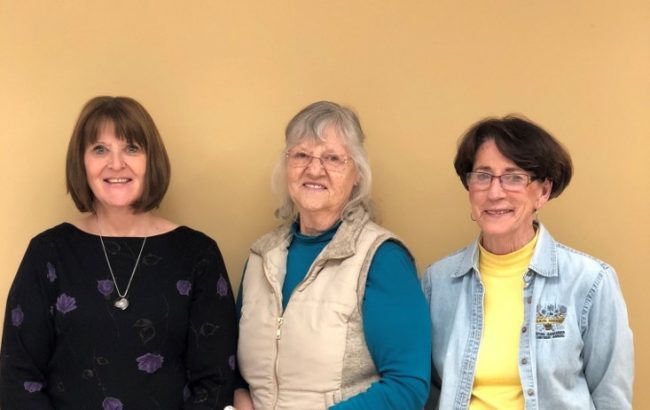 Left to right:  Glacial Gardeners Officers: Nancy Hill, President/Treasurer – Sharon Chick, Vice President – Arlene Jensen, Secretary
---

---
Glacial Gardeners Scholarship Opportunities for 2023
The Glacial Gardeners are once again offering Scholarship opportunities to area high school and current college students as a steppingstone on their journey to higher education.  One of our missions has been to reach out to the youth in our communities and kindle a passion for horticulture and all things green. Click on the link below to access the requirements and application.
Please note that the essay will be used as the deciding factor on who will be awarded the scholarship.
Deadline: Completed application must be postmarked by June 16, 2023.
---
GLACIAL GARDENERS AWARD SCHOLARSHIPS – 2022
The Glacial Gardeners are pleased to announce they have awarded three Inga Fleming Memorial Scholarships to three outstanding area students:
Cole Bracket of Kingsford MI, a second-year recipient, will receive a $1,000 scholarship.  He will be attending Bay du Noc Community College in Escanaba, MI, where he will major in Forestry.
Jenna Springer of Spread Eagle WI, a third – year recipient will receive a $1,000 scholarship.  Jenna attends the University of WI Platteville, majoring in Environmental Engineering.
Zachary Depotie of Perronville, MI is a fourth-year recipient and will receive a $1,000 scholarship. He is attending Michigan Technological University. Zach is majoring in Wildlife Ecology and Conservation.
The opportunity to apply for Inga Fleming Scholarships is available to students in Iron and Dickinson counties in Michigan and at Florence and Niagara schools in Wisconsin.
Students pursuing a two- or four-year degree in one of these majors are eligible to apply through their school counselors: agriculture or applied economics, agricultural education, agronomy, botany, entomology, environmental sciences, forest service, horticulture, landscape architecture, plant pathology, soil science or wildlife ecology.
The Glacial Gardeners want to thank the many members of the public for their support, especially through robust attendance and sales at the Annual Plant Sale this past May. They also want to thank area businesses, including Gurney's Seeds and the Gardens Alive! brands, Iron Mountain Walmart, Pat's Foods in Florence, Spread Eagle Garden Center, and Stephenson Marketing Co-Op in Aurora for their generous support.
Glacial Gardeners are involved in many projects in local communities and with schools. The popular plant sale that takes place the last Saturday in May helps generate funds for these scholarships and other projects.
The Glacial Gardeners meet on the second Monday of each month at the Resource Center in Florence. New members who are interested in gardening at home as well as within the community are welcome.
Left to right:  Cole Bracket, Jenna Springer, Zachary Depotie, Nancy Hill-Pres./Treas.
For more information, send an email to glacial.gardeners@gmail.com.
---
Master Gardener Volunteer Training Marinette, Oconto and Florence Counties
The Master Gardener program is all about building your gardening skills and providing opportunities for volunteering in the local community.  As a member of the class you will learn how to find answers to gardening questions through the use of research-based material from the University of Wisconsin Cooperative Extension.  On completion of the classroom sessions (36 hours), there will then be 24 hours of volunteer time put in at one or more of the approved projects in the area.  For information on the Wisconsin Master Gardener program, go visit the state website Wisconsin State Master Gardener Program
For more information about the Master Gardener Training or the local association (Glacial Gardeners Master Gardener Association), e-mail Office Manager Jane Lindow (jane.lindow@wisc.edu).
Topics covered in Master Gardener Training include:
Plant Biology & Morphology
Soils & Soil Health
Woody Landscape Plants
Fruit Crops
Composting
Herbs
Lawn Care 
Plant Propagation
Backyard Wildlife
Perennials and Annuals
Vegetables
Using Native Plants
Weed Management & Invasive Plants
Entomology
Plant Diseases
To complete an annual re-certification, 24 hours of volunteer time is needed plus 10 hours of continuing horticulture education.
The possibilities for volunteering are limited only by your own ideas and time.  Whether you like working most with people or with plants, there are activities that you can do to fulfill the volunteer hours requirement.