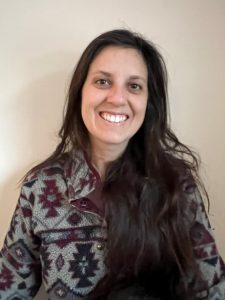 Maria Bournoville is the new positive youth development and 4-H Educator for UW-Extension Florence office. Maria has a Bachelor of Science degree in Environmental Education from UW-Stevens Point.
After college graduation, Maria entered the world with a passion for youth and connecting them to the natural world. Maria worked as a naturalist for Whitefish Dunes State Park providing children and interpretive programs. Maria then transitioned to a suburb of Chicago where she worked for Ryerson County teaching environmental education classes to students of the inner-city and suburbs.   Maria then spread her wings and moved to the mountains of Washington to work for AmeriCorps where she led a team of educators in developing and coordinating after-school programs and summer camps. After AmeriCorps, Maria moved back to Wisconsin to become an educator at Trees for Tomorrow. Maria also worked as an educator and interpreter in West Yellowstone where she provided children, adults, and family programs. She then moved to Oregon where she was the Community Outreach Coordinator for Harney District Hospital. In this position, she developed and coordinated a variety of youth programs and community events. Maria is ecstatic to be a part of the UW-Extension team and is looking forward to working with youth and having a positive impact in her community. She cannot wait to meet her colleagues and to develop long-lasting relationships with students and community partners.
Outside of work, you can find Maria smiling ear to ear while spending time with her family. Maria's husband works for the US (United States) Forest Service. They have two daughters, Willow and Juniper. She enjoys swimming, hiking, exploring, dance parties, playing games and being goofy with her family.
Maria Bournoville
Phone: (715) 528-4480 ext. 3
Maria.Bournoville@wisc.edu